In Tulsa:
A favorite place to visit in Tulsa is the "
Center of the Universe
" located on the bridge behind the Jazz Hall of Fame. Dipa Chakasorty has traveled the furthest to visit (to the best of my knowledge) all the way from Pune, India.

Another great place to visit is
Turkey Mountain Wilderness Area
which has a number of great hiking trails. If the parking lot is full, go a quarter mile or so up the hill to the second lot. The map says this lot is closed, but that's not true. An added bonus is the trails are less crowded in this area.
Less than an hour away:
Bixby - is just 15 minutes south of Tulsa. You can hike the short Ichabod Crane Trail at Lake Bixhoma which is open 6 a.m. to 10 p.m. and a bit of a local secret.
Jenks
is just across the river and only about a twenty minute drive from most places in Tulsa. Take the Creek turnpike (toll) for the quickest route. There are several good antique shops, such as
Miss McGillicutty's
, and Jenks is the home of the
Oklahoma Aquarium
and
RiverWalk Crossing
.
Red Fork
on the west side of Tulsa has some interesting items for those who like trains. To get there, make your way to the new Route 66 Village at 3770 Southwest Boulevard. Those who are so inclined can continue the theme experience at
Ollie's Station
restaurant which is just a little further down the road and features model trains running overhead.
Claremore
is a small town about 30 minutes northeast of Tulsa with some great things to do. You can visit the J.M. Davis Arms & Historical Museum or
Will Rogers Museum
and stop at the Hammett House for lunch. Interesting roadside attractions off of Route 66 include the
Totem Pole Park
in nearby Foyil, and the famous Blue Whale which is located in Catoosa and is on the way back to Tulsa.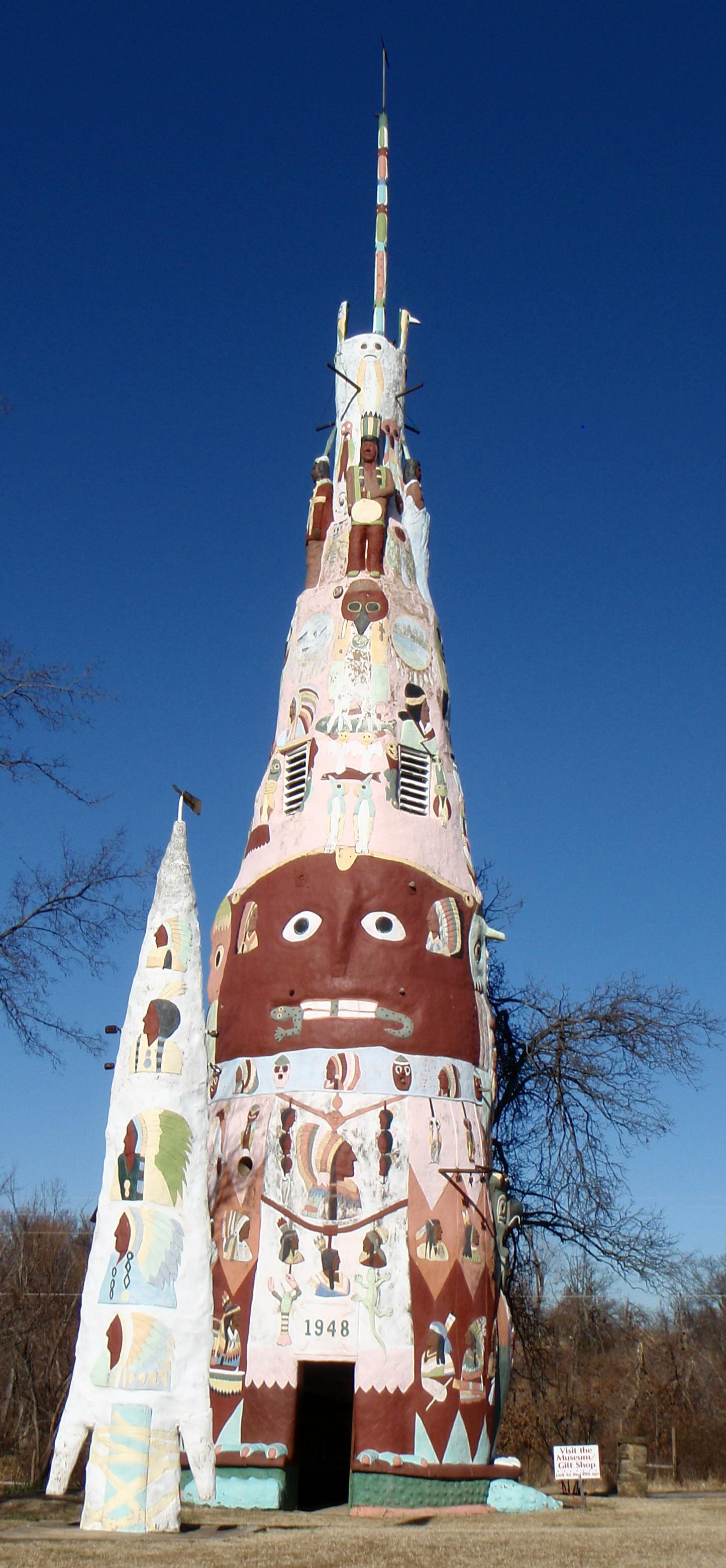 Photo by John Ishee
Muskogee
is about 45 minutes southeast of Tulsa. Here you can visit the
U.S.S. Batfish
, which is one of about 25 submarines on display in the United States. Of cultural interest, there is the
Five Civilized Tribes Museum
and the American Indian art on display in the
Ataloa Lodge Musuem
at Bacone College. There are also several antique shops and other attractions.
Bartlesville
is about an hour north of Tulsa and features the
Price Tower
which is a small skyscraper designed by Frank Llyod Wright. Nearby is the
Woolaroc Museum
. A local favorite is
Murphy's Original Steak House
, a small diner where the featured item is the "hot hamburger" covered in gravy. I've traveled many places, but some of the nicest people I've met on the whole planet were found in the waiting area at Murphy's.
More than one, but less than two hours away:
Tallgrass Prarie
near Pawhuska is about an hour and a half northwest of Tulsa. Here you will find wide open spaces and one of the nations largest herds of American Bison. There is a small museum and a short hiking trail as well. Take a picnic basket or boxed lunch with you, there's no place to buy anything out on the prairie. Or, better yet, plan your trip to include a stop at
Bad Brad's
in Pawhuska for some of the best barbeque in the state! Or, visit the
Pioneer Women's Mercantile
!
Natural Falls State Park
is about an hour and a half east of Tulsa. You might want to take a box lunch, there are not too many restaurants out that way.
Arcadia
is just a little less than an hour and a half west of Tulsa. To get there, take I-44 west to exit 158, then west on Route 66 for about 17 more miles. Arcadia features the
Round Barn
and
Pops
, a futuristic styled gas station with a 66 foot tall sculpture of a pop bottle in front. Their selection of soda pop is impressive! To continue on to Oklahoma City, just keep going west on Route 66 then south on I-35.
Grand Lake is about an hour and a half northeast of Tulsa. You can fish, rent cabins and boats, go parasailing, etc. The GRDA offers free tours of the dam in the summer. See the Grand Lake page on this web site for more links.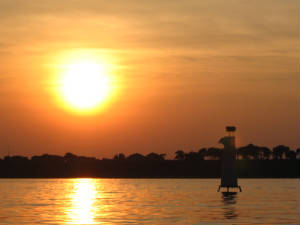 Sunset on Grand Lake. Photo by Heather Ishee
More than two hours away...
Crystal Bridges Art Museum
is a world class art museum that opened in 2011. It is a little more than two (2) hours away in Bentonville, Arkansas. Amenities include hiking trails and an on site restaurant.
Eureka Springs, Arkansas
is a little less than three (3) hours east of Tulsa. There are lot's of things to do there, such as go trout fishing in the river below nearby Beaver Lake or see the
Great Passion Play
. On the way, stop at
Mama Z's
in Tontitown, Arkansas for some great Italian food in a very casual atmosphere.
Wichita Mountains National Wildlife Refuge
is just north of Lawton, Oklahoma. Leave Tulsa early in the morning for the three (3) hour drive. Here you will find some of the best natural scenery, hiking and animal watching in Oklahoma. You are nearly guaranteed to see bison, elk, long horn cattle and prairie dogs. There is a great visitor's center, several small lakes, and you can even drive to the top of one of the ancient weathered mountains. If you're the adventurous type, stop at the
Meers Store
for one of their famous burgers...just remember to bring cash.